*** You will need your pleasure craft operator's certificate in order to pilot a boat on Klak Lake. Be sure that this is taken care of by this time. Contact Gord Edmondson if you need assistance. NOTE: There is no cellphone coverage at the lake.  A satellite phone is available for emergencies.
A field and laboratory course focusing on the physical and biological survey of aquatic ecosystems. Students spend the first week of September  at a remote Vancouver Island lake conducting a series of 4 survey activities lead by various faculty members.  The resulting data are analyzed in a field laboratory and during weekly labs back at Vancouver Island University over the Fall semester. The data are compiled, statistically analyzed and ultimately compiled into a professional lake survey report.
1. Zooplankton Survey: Dr. Dan Baker
Zooplankton communities constitute an important component of freshwater ecosystems. The invertebrates perform numerous ecosystems functions essential for healthy lakes and streams. They are an important source of food for higher trophic levels (the fish) and serve to maintain balanced production and decomposition. It is often important to assess the health of an ecosystem using measures such as biomass, diversity and spatial distribution of zooplankton. In this part of the course, we will learn methods for collection, preservation and identification of freshwater zooplankton. We will retrieve samples, then preserve and analyze them in a subsequent lab. We will also collect fresh samples that can be used for practice in identifying taxa as well as making behavioural observations.
2. Fish Survey: Dr. Chris Foote
The task is to determine: (1) the fish species present in the lake and tributaries; (2) their distribution relative to depth and habitat; (3) and various aspects of their biology (diet, behavioural patterns, potential for competition with other species, predator-prey relationships, etc.). Sampling is done using a variety of gear types (variable mesh gillnets, minnow traps and seine nets). Students participate fully in the use of these various gear types and in the biological sampling of the catches. In the laboratory at Vancouver Island University, students spend one lab sampling the stomach contents of each fish collected. Data from the field and lab are collated and analyzed and used to produce a section on the biology of the fishes of the sampled lake for the final report.
3. Water Quality: Gord Edmondson
The objectives are to:(1) Measure aspects of water quality at three stations on Lower Klaklakama Lake, and at stations on the lake's inlet and outlet streams. (2)Obtain vertical profiles of water temperature, dissolved oxygen, conductivity and pH using an electronic probe. (3)Measure water transparency (Secchi depth) at several marked lake stations. (4) Collect lake water samples from various depths using a van Dorn bottle. (5)Analyse water samples for dissolved oxygen, alkalinity, suspended solids and nitrate at the field laboratory.
4. Macro invertebrate Sampling: Simon Yuan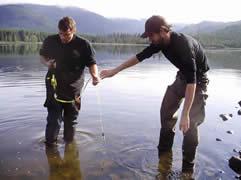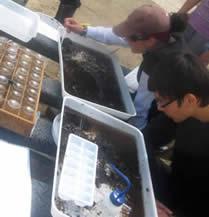 Freshwater benthic macroinvertebrates ("benthos") are animals without backbones that are larger than ½ millimeter. These animals live on/under rocks, logs, sediment, debris and aquatic plants during some period in their life. The freshwater benthos is an important part of the food chain, especially for fish. There are several methods to collect macroinvertebrates – each reflects the goal of the study (e.g., microhabitat location, emergence, stream drift, colonization, biodiversity, etc.). Since our primary objective is to identify these organisms to assess biodiversity and habitat quality, our goal when sampling is numbers of organisms within a defined area (density).