Background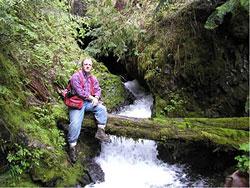 I was born in England and raised in Wales, and had my first introduction to geology in high school where we went on a number of field trips into the wilds of Mid-Wales. Following high school I undertook a BSc degree in Mining Engineering at Camborne School of Mines in Cornwall, during which I had a number of work experiences in the tin mines and clay pits of Cornwall, and a copper mine in Finland. After mining school I took a one way flight to Los Angels and ended up with a summer's job as a junior geologist on a mineral exploration project in the Yukon. From there I went to study Mineral Exploration at McGill University and graduated with an MSc in 1983. After McGill it was of for a year's travel-work experience in Australia, including a stint as an exploration geologist in the 'Kalgoorlie Gold Fields', Australia. I returned to Canada in 1986 and completed a PhD in Geology at Dalhousie Univeristy , where I worked on the structural geology and gold mineralization processes related to then formation of 'gold-bearing quartz-breccia zones' that were hosted in Archean metasediments of the Gordon Lake Region, Northwest Territories. After graduating from Dalhousie it was time to head west to British Columbia and work in industry!
Work Experience
My work career in British Columbia started as a geologist working for a large consulting company completing engineering geology and environmental projects in both Nanaimo and other parts of Vancouver Island. After two year's I formed my own company 'Terra Firma Geoscience Services' which did (and still does) provide a wide range of consulting services in environmental geology, geological engineering and geohazards. My current areas of expertise include: terrain stability analysis of forest lands, landslide investigations, structural geological mapping and the assessment and management of cave/karst landscapes. Past clients have included industry, government agencies, crown corporations and other consultant companies.
Teaching
I started teaching geology part time in Vancouver Island University in the summer of 2002, when I taught SCIE 252 (Dinosaurs, Disasters and the Dynamic Earth) as part of a six week summer session. Since that time he has taught a number of geology courses including SCIE 252 quite a number of times in both the Nanaimo and Duncan campus, GEOL 112 (Introduction to Geology II), GEOG 112 (Earth's Environments), GEOL 301 (Cave/Karst Landscapes and Systems) and GEOL 201 (Earth Structures). Other activities within the Earth Science Department include involvement with the development of the 'Nanaimo Geoscape Poster' and as the Science Coordinator for putting on science programs and workshops for elementary schools.
Research Interests
My research interests are quite varied. Most of my previous research during my PhD was related to structural geology and ore deposits - in particular gold-quartz vein mineralization processes. Recently I have been involved with a number of research projects that are related cave and karst landscapes, and how these landscapes are impacted by forestry activities. One of these projects has included investigating sinkholes processes and their associated microclimates. One recent research project of interest is structural mapping and analysis of a large ancient landslide site that is located upstream of a major dam and hydroelectric facility.