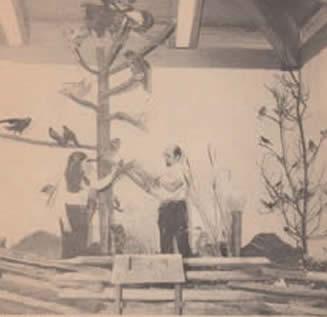 Photo above: (Sept.1977) A facet of the new Malaspina College
campus. Biology instructor Dave Kerridge is seen placing the
finishing touches to the major display assisted by student aide
Druanne Tucker
The Museum of Natural History first opened in the fall of 1977.
The museum provides services in the areas of:
Supporting collections-based research for students and faculty
Providing for collections-based teaching (over 10 different courses in over 4 different departments)
Providing a research resources for local and regional researchers
Providing independent study opportunities for VIU students
Supporting community outreach programs for students of all ages.