Course Description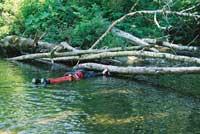 A 1.5-day practical review of standard snorkel survey procedures common to North America. Participants spend one day in-stream, learning essential skills for completing detailed adult and juvenile fish population estimates, habitat assessments, spawning surveys, and impact assessments. In class, participants learn proper equipment selection, usage, and maintenance, standard data recording and management, as well as key safety planning and practices.
Objective
This program will train personnel to be capable to conduct detailed (and quantitative) snorkel survey procedures for: fish population estimation, habitat assessments, spawner and redd inventory, and environmental impact assessment.
Class vs Field
Class: 0.5 days; Field: 1.0 days
Prerequisites
None. Swiftwater Safety Operations (SS0) or equivalent Rescue Canada training is highly recommended (but not mandatory).
You Supply
Personal field wear, including a wetsuit or drysuit (recommended), snorkel and mask.
Note: suits, masks and snorkels are often available for rent. Consider researching rental companies and securing these items well-in-advance of the course start date.
Course Schedule
See Course schedule
Registration
See Registration
Refunds
Course fees are refundable if you withdraw a minimum of 10 days prior to the start date of the course. Note that special refund deadlines are stated for some courses, and we are unable to issue refunds after those deadlines - information will appear in the intake's details available on the Course Schedule.
Non-Refundable Fees: Some courses may have non-refundable tuition, application, and/or lab fees.
Note: A full refund is issued if a course is cancelled.