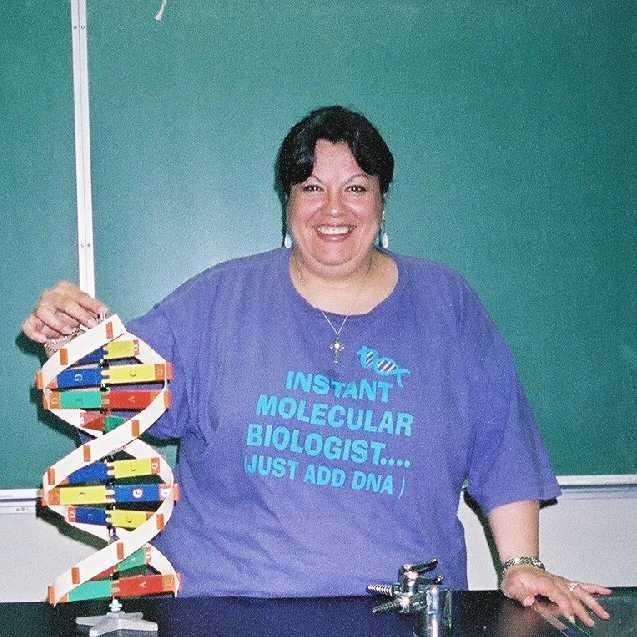 Office: Building 370, Room 117
Phone: 250-753-3245, Ext. 2320
Fax: 250-740-6482
Email: Mercedes.Hernandez@viu.ca
Website: Mercedes Hernandez
Molecular Biology
Recombinant DNA technology
Microbiology
Genetics
Education
Ph.D., Molecular Biology and Genetics, University of Guelph, Guelph, Ontario (1994)
M.Sc., Crop Science, University of Guelph, Guelph, Ontario (1987)
B.Sc., Instituto Universitario Pedagogico de Caracas (IUPC), Caracas, Venezuela (1980)
Courses Taught
BIOL 210 –  Microbiology I
BIOL 211 – Microbiology II
BIOL 331 – Physiology & Genetics of Prokaryotes
BIOL 333 – Laboratory Techniques in Molecular Biology
BIOL 334 – Virology
BIOL 336 – Bacterial Genetics
BIOL 436 – Pathogenic Microbiology
Publications
Scadding S. and Hernandez M. 1998. Introductory Cell Biology Course Manual 15-22168 Office of Open Learning, University of Guelph.
Refereed Journal Publications
Sang-Geon Yeo, Mercedes Hernandez, Peter J. Krell & Eva Nagy. 2003. Cloning and Sequence Analysis of the Spike Gene of Porcine Epidemic Diarrhea Virus Chinju99. Virus Genes 26:3, 239-246.
Hernandez-Fernandez M.M., Court D.A., Bertrand H., Lo R., Clarke A.J. 1994 Purification and initial characterization of the terminal proteins from the kalilo and maranhar senescence plasmids of Neurospora.  Protein and Peptide Letters, Vol l (3): 169-174.
Hernandez-Fernandez M.M. and B.R. Christie. 1989. Inheritance of somatic embryogenesis in alfalfa ( Medicago sativa L.). GENOME, Vol 32:318-321.
Ph.D. Thesis Title: Mitochondrial DNA rearrangements in kalilo and maranhar strains of Neurospora and studies of the free plasmid terminal protein.
M. Sc. Thesis title: Inheritance of somatic embryogenesis in alfalfa (Medicago sativa L.).
Supervised Students
(For a complete & updated list of supervised students please refer to Dr. Hernandez web page)
Fatima Kaabar. 2007. Comparative susceptibility to Triclosan & antibiotics among staphylococcal isolates from Southern Vancouver Island.
Jennifer O'Donnell. 2007. Characterization of the mobile genetic element responsible for methicillin resistance in environmental and clinical staphylococcal isolates by multiplex PCR assay.
Jaspreet Randhawa. 2007. Response of methicillin resistant Staphylococcus aureus to long term cultivation at sub-lethal levels of Triclocarban.
Antonio Fernandez. 2006. Prevalence of Resistance Against Antibiotics and Antibacterial Agents Among Staphylococcus sp. Isolated from Surfaces at Selected Public Places in Two Vancouver Island Communities.
Amanda Beerens. 2005. Prevalence of Multiple Antibiotic Resistant Staphylococcus aureus (MRSA) in a Health Care Facility versus the Community of Nanaimo, British Columbia.
Satoko Nishimura. 2004. The evaluation of the prevalence and the ecological importance of canine parvovirus in urban populations of coyotes, Canis latrans, in British Columbia by nested polymerase chain reaction.
Harjeet Basi. 2004. The antibacterial activity of Triclosan and Trichlocarban against Staphylococcus aureus isolated from ATM machines in Nanaimo, BC.
Brette Gillies. 2004. The prevalence of multiple antibiotic resistant Staphylococcus aureus on ATM machines in the Nanaimo District.
Woodrow Emily. 2003. Enumeration and identification of Bifidobacteria spp. in commercial probiotic products in Nanaimo, BC.
Natasha Bridger. 2002. Evaluating dairy products in the Nanaimo area for the presence of viable Bifidobacteria spp.
Kelly McKinnon. 2002. Evaluation of the Effectiveness of Two Iodophors used in Foot Baths under Different Environmental Conditions.
Bocheck Jackie. 2001. Factors influencing the effectiveness of an iodophor disinfectant commonly used in fish hatcheries.
Orrey Liane. 2001. The environmental persistence of Bacillus thuringiensis var. Kurstaki HD-1 sixteen months after spraying Foray 48b in Nanaimo, B.C.
Tritschler Wade. 2000. Molecular epidemiology study of canine distemper in British Columbia racoons and coyotes.