"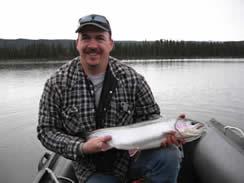 I participated in the one and only RMOT First Nation program that was held at the Cowichan campus located in Duncan, BC. The experience of learning beside First Nation members on the Cowichan First Nation reserve, gave me valuable knowledge about First Nation people and how to be respectful of their culture."
 "I worked as the Waste Surveillance Project Coordinator during the summer of 2003, which gave me valuable work experience needed to qualify for future jobs."
"Upon graduating with my diploma, I began working as a Conservation Officer in Alberta Parks out of St. Paul, Alberta. I spent the 2004 and 2005 summer seasons working there covering four different parks with a total of roughly 300 campsites. The majority of the time I worked alone and managed to get in some boat and ATV patrols."
"In 2006, I was hired as a seasonal Conservation Officer in BC. After completing 6 weeks of training I was promptly shipped to Dease Lake for the remainder of my 8 months. My time in Dease Lake was exceptional, some of the best fishing and hunting, surrounded by beautiful scenery.  Long days in the field on ATVs and jet boats were the norm. At the end of my term in Dease Lake I was offered a temporary Conservation Officer position in Victoria for four months, talk about a change of job function. The job title may be the same but the duties were dramatically different in focus and amount. I went from covering nearly one hundred thousand square kms with maybe one thousand people, to covering a few thousand square kms with several hundred thousand people."  
"The four months turned into 20 months at which time I was hired full time in Nanaimo. All new hires must attend training at the Western Conservation Law Enforcement Academy in Hinton, Alberta. I attended Hinton from August 2008 to December 2008. The academy had cadets from BC, Alberta, Saskatchewan, Manitoba and the Yukon. The four months of training covered all aspects of equipment use and physical ability requirements of environmental law enforcement as well as the academic requirements around investigations."
"The education I received in the RMOT program gave me a very solid foundation to build my career on. The high quality reputations of the RMOT graduates that preceded me were a great asset in getting my foot in the door. Hard work, determination and a willingness to sacrifice time with family for work experience abroad, allowed me to achieve my goal of becoming a BC Conservation Officer."
Stuart Bates
Conservation Officer
BC Ministry of Environment
Nanaimo, BC