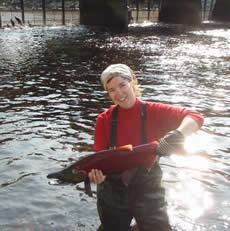 "I graduated from the RMOT diploma program knowing one thing for certain; I didn't want to work in enforcement. A strange realization for someone with a Degree in Criminology and a Diploma in Officer Technology, but I had worked a summer as a Park Patrol Officer in Manitoba and realized it wasn't for me. I had however had a great time during the RMOT school year volunteering at a Wildlife recovery Center and working as a lab-tech for the RMOT program. I realized these types of employment were more my area. Luckily RMOT offered me a well rounded education and I graduated with skills in many different areas.
Immediately after graduation I went to work for a spring season at a DFO fisheries enhancement program in central BC, where I reaffirmed my love of technical, non-enforcement work, fisheries or otherwise.
As a graduation gift to myself I left for a trip to New Zealand where I volunteered as a Park Warden in two National Parks. I maintained trails and huts used by multi-day hikers, I responded to park users in distress and trapped invasive species. These volunteer positions turned into a paid position with the Department of Conservation- Fisheries section. I collected field data on Rainbow and Brown trout, both introduced but economically important species in NZ. I lived in and maintained back country huts at the base of an active volcano and spent my time off fishing in the world class trout fishing Tongario River.
My travels continued for another 2 years through Australia and South East Asia where I offered my skills to wild-life recovery centers, eco-villages and environmental activist groups.
I finally returned to Canada and the spawning channel I had worked at three years previous, I am currently working here as a Fisheries Technician. The work is meaningful and challenging, in a beautiful, remote location and it gives me lots of time off. This flexible, ethical work suits my personal values and traveling life-style well.
RMOT provided me with the well rounded education I needed to access employment opportunities that are right for me. I am sure it will serve me again in the future as I continue to travel and work."
Karen Mohr