"I began my journey in the Bachelor of Natural Resource Protection program at VIU in 2007.  Unlike many of the students that apply to the program I knew from the very beginning that Enforcement was not for me.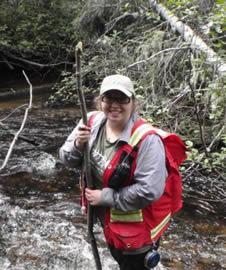 My love of fish and appreciation for the outdoors motivated me to apply to the program.  My goal was to eventually get a technical job within the BC government.  The great thing about RMOT is that the knowledge and skills can be used throughout the Natural Resource Sector in enforcement and non enforcement roles.  All of the scenarios and field work prepared me for some excellent resource jobs.
After first year I worked with a Biologist as an assistant bird bander.  We travelled up and down the East coast of Vancouver Island banding and observing Purple Martins.  The next summer I worked with a fish tech on a smolt fence on the Millstone River, we counted over 15000 Coho smolts heading to the ocean.  After third year the professors from RMOT recommended me for a job with BC Parks as a Park Ranger.  Even though I said that I would never work in enforcement I decided to give it a try.  It turned out that I absolutely loved working for BC Parks, it was "light enforcement" and I spent most of my time exploring the parks and educating park users.  I loved it so much that I went back to work for a second season as a Senior Ranger, the one drawback with parks is that it is next to impossible to get a full time ranger position. 
In 2011 as my second term was coming to an end with parks and I now had a degree in my hand I started to apply for full time jobs within the BC government.  The interview and competency skills that I acquired from RMOT helped me land a full time position with the Ministry of Forest Lands and Natural Resource Operations (FLNRO) as a Resource Technologist.  My duties include helping licensees acquire permits for forestry, mining and lands.  The field work is the best part of my job, I have completed many stream surveys, biodiversity surveys, water quality surveys, and beetle surveys under the Forest and Range Evaluation Program (FREP).
The Bachelor of Natural Resource Protection has prepared me for a career in natural resources; I look forward to completing my Masters one day and receiving a professional designation." 
Loni Arman
Resource Technologist
Ministry of Forests, Lands and Natural Resource Operations