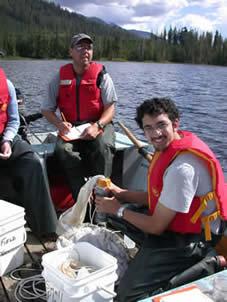 This is a very popular program for students that already have a Bachelor's degree in Science or a similar biological/environmental science. Students take applied skills oriented courses and advanced specific topics in the fields of fisheries or aquaculture. These courses are taught in conjunction with weekly practicum/work experience placements in one or more of a wide range of situations (government research labs, fisheries habitat and management agencies, shellfish and finfish aquaculture hatcheries & farms, salmon enhancement hatcheries, environmental consulting firms, etc.). Graduates find the knowledge, practical skills and work experience gained to be excellent direct gateways to careers and graduate school.
The post degree diploma is comprised of a set of courses that is tailored to meet individual student's career interests, usually with either a conservation, fisheries management or aquaculture emphasis. Students must complete a total of 36 credits which must include 2 semesters of work experience (practicum, FISH 371/372) and 2 semesters of applied skills courses (FISH 391/392). Electives may be chosen with co-ordination with the chair from courses coded, for example, as AQUA, BIOL, CHEM, CSCI, FISH, FNAT, FRST, or RMOT. Suggested courses to be considered and confirmed with the Chair(s) of the program include:
Aquaculture:
Finfish: FISH 127, FISH 231, FISH 254, AQUA 101, AQUA 342,
Invertebrates: FISH 222, AQUA 101, AQUA 342, AQUA 441 (intersession)
Algae: FISH 133
General skills: FISH 161, FISH 162
General information: MGMT 381, GEOG 356
Environmental Consulting:
Freshwater focus: FISH 115, FISH 132, FISH 133, FISH 253, FISH 255, FISH 281, FISH 324, RMOT 306, FMOT 400, RMOT 410, RMOT 496, FRST 228,
Saltwater focus: FISH 133, FISH 205, FISH 223, FISH 322, FISH 324
Graduate Schools (Master's or Ph. D. degrees):
Students are recommended to focus on upper level courses that fit with their interests and potential Universities.
Program Outline
| | |
| --- | --- |
| Year 1 | Credits |
| FISH 371 and FISH 3721 | 6 |
| FISH 391 and FISH 3922 | 6 |
| | 15 |
| Electives 100 level and above3 | 9 |
| Total | 36 |
1. Work experience placements are to be selected in coordination with the Chair of the Department or Coordinator of the specific courses.
2. Applied skills placements are to be selected in coordination with the Chair of the Department.
3. Electives are to be chosen in consultation with, and must be approved by, the Chair of Fisheries and Aquaculture. Suggested electives can be found here (https://scitech.viu.ca/fisheries-aquaculture/post-degree-diploma)
Steps to become a Post-Degree Diploma Student
Graduate with a Bachelor of Science degree from VIU or elsewhere
Receive acceptance letter from VIU
As soon as you are accepted, contact Department Chair or Co-Chair to choose courses for each semester that will cater to your career goals. Domestic and international students can not complete registration without this step!
Register

Domestic Students: You are responsible for registering yourself. Please do this as soon as you receive a student number. Log on to your student record and on the left of the screen, click on web registration. You should register for both the Fall and Spring semester at this time. Enter the specific course IDs (example (AQUA 204) in the spaces allotted then click Build me a timetable with these courses. When the timetable comes up, check it over and click Register me in these courses.
International Students: Contact Department Chair or Co-Chair to register. Alternatively, if you are in Nanaimo, you can take your list of courses down to international education (building 255 Nanaimo campus map) and register yourself. It is advisable to register for courses before you arrive in Canada (May - June)

Pay tuition deposit
Pay remaining tuition