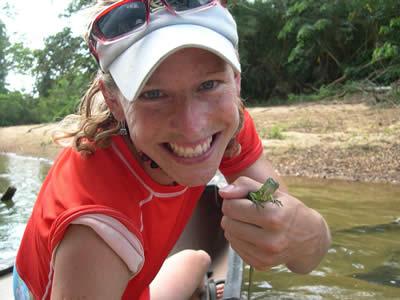 Office: Building 370, Room 229
Phone: 250-753-3245, Ext. 2638
Fax: 250-740-6482
Email: Wendy.Simms@viu.ca
I completed my BSc in Biology at UBC and then traveled through Africa and Asia for six months. After I returned, I was hired as a Lab Technician in the UBC Department of Anatomy. I worked with Dr. Joanne Weinberg and her lab on various projects related to Fetal Alcohol Syndrome and stress. After a year, I left to start my own MSc (UVic) with Dr. Peter Ross at the Institute of Ocean Sciences. I studied vitamin A and environmental contaminants in harbour seals (Phoca vitulina) and my publications related to this work include:
W. Simms and P.S. Ross (2000) Developmental changes in circulatory vitamin A (retinol) and its transport proteins in free-ranging harbour seal (Phoca vitulina) pups. Canadian Journal of Zoology 78: 1862-1868.
W. Simms, S. Jeffries, M. Ikonomou and P.S. Ross (2000) Contaminant-related disruption of vitamin A dynamics in free-ranging harbor seal pups from British Columbia, Canada, and Washington State, USA. Environmental Toxicology and Chemistry 19(11): 2844-2849.
W. Simms and P.S. Ross (2000) Vitamin A and its application as a biomarker of contaminant-related effects in marine mammals: a review. Toxicology and Industrial Health 16: 291-302.
I am currently a Laboratory Demonstrator for the Vancouver Island University Department of Biology, assisting Instructors with the laboratory portion of a variety of ecology, physiology and zoology courses. I have also had the opportunity to teach the laboratory and/or lecture portions of Invertebrate Zoology (Biol 310), Life on Earth (Sci 251), Physiology (Biol 305) and Introductory Zoology (Biol 121). In the past I have supervised Biology 491 undergraduate research projects on sea lice and bats. I became fascinated with bats when I was first in Belize with the Tropical Biology Field School in 2003. I loved it so much I went back to Belize in 2004 and 2005, and I am excited to be returning to Belize with the field school in May 2009.
When I am not working, I can usually be found running with my dog Marty or biking. I am on the Canadian National Cycling team and race mountain bike and cyclocross for team KONA. I just completed a one and a half year leave from VIU to be a pro athlete and race my bike all over the world. It was a pretty amazing experience but I am happy to be back in biology at VIU where I do everything from boiling bones to catching bullfrogs. It changes every day…