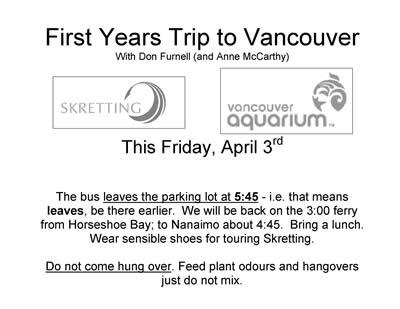 Looking for 4 volunteers with an artistic Flair and very good handwriting. Volunteers are needed to help provide a real time graphic representation of ongoing discussions by delegates during the two day Pacific North Coast Integrated Management (PNCIMA) Forum March 26th & 27th, 2009 (www.pncima.org) sponsored by the Department of Fisheries and Oceans (lunch will be provided). The forum engages affected interests in the collaborative development of an integrated approach to oceans management. Volunteers will be "mapping" the plenary sessions by creating large-scale graphic depictions of each session using a combinations of words, images and ions. The Artwork is created using felt markers and chalk pastels on mural sized rolls of paper cut to appropriate lengths for each session.
A two hour training session will be provided to volunteers on March 23rd in Richmond.
Anyone interested in volunteering should Contact
Coral Cargill
At:
Coral.Cargill@dfo-mpo.gc.ca
Summer jobs as Fish Culturists here at VIU. Application deadline: March 20th! Make sure you talk to Dan Fox or Garrett Spray to find out the inside scoop on the job.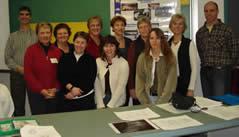 Representatives from the world renowned Fish Aging Unit of the Pacific Biological Station will be conducting the 29th annual seminar for Fisheries and Aquaculture students on Thursday, March 5th in building 380 room 103. Seminar begins at 8:30. Please note: all other first year classes are cancelled this day.
Summer Practicum Presentations (Feb 11th, 2009: 380-201: 12:00) Please give the finished presentation (on memory stick) to Anne no later than noon Monday, Feb 9th.
In order to graduate from the 2-year Fisheries and Aquaculture diploma program you must complete and receive a grade for your summer work experience (AQUA 173T). Grading will be based on an 8-12 minute presentation delivered to faculty and your peers. No written report is required. Criteria for presentation grading.
Students enrolled in Aquatic Plant Ecology and Culture (AQUA 204) taught by Duane Barker can purchase a lab book for $12.00 from Anne McCarthy in building 380 office 100G.
Aquaculture Association of Canada Student Scholarship: The review process will be administered to allow awards to be made before April 15,
2009. The deadline for receipt of applications is February 28, 2009. There are three, $1,000 scholarships available! Successful applicants will receive a cheque to put towards their education in any way they see fit.
Financial Aid and Awards office (building 200) has available bursaries and scholarships. Apply online. There is 1 specific award for Fish/Aqua students but many more that you may be qualified for. DEADLINE JANUARY 15th, 2009