On November 14th, a total of $12,700 dollars was presented to 12 Fisheries & Aquaculture students (photo below) completing either the BSc or the diploma program. Joining the fish/aqua faculty were the President of Vancouver Island University, Dr. Ralph Nilson and the Dean of Science and Technology, Dr. David Drakeford. Representatives from several organizations that contributed awards were also in attendance to present their specific awards to the students. Special thanks to Mike Henderson, PRAqua; David McCallum, BC Shellfish Growers Association; Bill Bennett, Eunice Lam awards; and Dr. Eric Ricker, William E. Ricker Memorial Scholarship.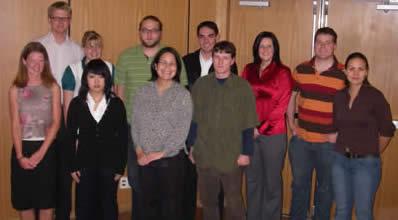 Award winners for 2007 (left to right): Julie Vandenbor, Cameron Robinson, Brittany McNish, Mika Morimoto, Mike Legge, Carol Bob, Chris Presslauer, Ron Hill, Amy Hoare, Nick Schoenfelder, and Sabrina Halvorsen. Brad Durvin (not pictured)
This event was a great opportunity to recognize both the achievements of our students, and the contributions from all donating organizations. Below are a few photos from the evening.