Composed by Tim Goater in June, 2001. Thank-you to all the graduates who contributed to this year's newsletter. Stay in touch and keep up the great work!
1996 Graduates
Aaron Gough is still working for the same consulting firm, Knight Piésold Ltd., in Vancouver, doing Environmental Impact Assessments and other permitting studies for the mining and hydroelectric industries. The majority of his work is still overseas. Aaron has just been offered a more senior position in the company in their Lima, Peru office. "The focus of my new position will change somewhat, from mostly reporting and field investigations, more toward the client liaison, marketing, and project management side of the business. It will be a challenge but will also still allow me to do some of the fun field work. My contract will be for three years after which time I will return to Vancouver in the capacity of Senior Environmental Specialist. I intend to apply to graduate school upon my return - to do a Masters in Tropical Ecology." Other work that Aaron is doing or has recently completed include: an Environmental Impact Assessment for the expansion of a gold mining operation in Ghana, environmental permitting of a large hydroelectric project in Honduras, baseline soils investigations for a prospective gold mine in Turkey, and ecosystem studies (vegetation, ecosystem, and wildlife) for a prospective gold mine in the Cariboo and for a small hydroelectric project near Pemberton. "It is heartening to see so many Malaspina graduates gainfully employed and using the information they learned - a testament to the excellence of the education being provided at Malaspina."
After graduating, Andrew Howes, Janna Jorgensen and Lisa Kerley traveled to Taiwan to teach English as a second Language (ESL) for a year. Originally this was to finance further education and for the adventure of traveling. In Taiwan, Andrew not only experienced an entirely different culture, but also tried teaching for the first time. "I discovered how satisfying teaching could be. I then applied to the University of British Columbia and was accepted into the post-degree Bachelor of Education program. I started in the B.Ed program the following September. In August 1998, I competed my Bachelor of Education in secondary science. The following October I was hired by the Langley School District (at the same school that I did my practicum). Cheryl (my girlfriend who is also a High School Teacher) and I then took a year sabbatical and returned to Taiwan. In Taiwan, I teach English conversation and science. I have since been offered a continuing teaching position. In this way, I am able to mix my love for teaching and biology. Cheryl and I have tentatively planned to continue to work in Taiwan for five and a half more years. At which time we plan to retire. This will allow us to travel more and move back to Canada where we plan to build a house. We have been able to travel to Japan, Bali and Thailand during vacations but still have a lot of Asia to cover. The next destination is probably the Philippines."
Jason Lewis is in the Faculty of Environmental Design at the University of Calgary, and is planning on defending his Masters thesis in September, 2001. His project is to develop a habitat suitability model for the Vancouver Island Marmot, and to apply this model to selected regions of Vancouver Island. After finishing his degree, Jason is planning to travel to South Africa for a month.
After Patrick McLarnon graduated, he went to BCIT for the GIS program. He then went to Taiwan. "It has been about four years now that I have been here. There is so much work for anyone with or without a degree. I've paid off my student loan and saved up enough money for a house so I will be taking a short break from teaching as a profession. I started studying Chinese on a full time basis in Shanghai this past year. My girlfriend, who is overseas Chinese, speaks seven languages and her English is perfect so my opportunities for practicing at home are also quite limited. I feel I might have a good shot of learning some Chinese if I move to a place where there are no foreigners. Anything is possible I have found out. Coming to Taiwan really opened my eyes. I know I can do anything I want to do. Traveling by myself and living so far from home allows you to really experience what you can accomplish."
Greg Sandland started his Ph. D. in evolutionary ecology at Purdue University, September, 2000. His research involves investigating the coevolutionary relationships between trematodes and their snail hosts. At the moment he is studying the degree to which local adaptation occurs in these systems at varying spatial scales. Future experiments will utilize microsatellite markers to estimate relative gene flow among these parasites. In addition, he has recently published two research papers in the Journal of Parasitology on work that was done as part of his Master's thesis with Dr. Cam Goater at the University of Lethbridge.
As of May 2001, Amy Weber graduated with a MSc in Epidemiology from the Department of Epidemiology and Biostatistics at McGill University. "My thesis explored HIV risk behaviours and predictors of initiation into prostitution among female street youth in Montreal. I am currently working as a research associate with the BC Centre for Excellence in HIV/AIDS at St. Paul's Hospital in Vancouver. This is a position I have held for close to 4 years. I will start the PhD program in the Department of Health Care and Epidemiology at UBC in September. I spent 6 weeks last summer (2000) in Southern Africa both presenting at the International AIDS Conference held in Durban South Africa and working with the Medical Research Council (MRC) of South Africa in Durban. This work was in follow-up to a project I had been involved in with the MRC in 1998. I also travelled through Lesotho and Namibia. This year I am presenting at a number of national and international HIV meetings including AIDS Impact which will be held in Brighton, UK in July."
After graduation, Andy Wozney began working with the DFO fish hatchery in Kitimat. Andy then applied for an entry level position at Eurocan Pulp and Paper. "To make a long story short I was one of 5 people out of 40 people to be hired! I figured I would give the job a try, as it was a fairly physical job. It actually wasn't too bad at first. However, after about 11 months my hips were telling me they would not be able to take much more of the pounding up and down the cement floor for much longer. I ended up transferring to a staff position, (I was union in the mill) to a technical/environmental department job, I am now looking after the air emissions that Eurocan is putting into the atmosphere, and ensuring it meets all the our environmental standards. I would like to thank all of the good teachers for giving me an opportunity to do something that without the education I received at Malaspina, more than likely would have had no chance of doing. One of the reasons they hired me for the position was because of my post-secondary education."
1997 Graduates
After graduation, Sandy Blandford joined the Tropical Biology Course in Belize, and was involved in a boating accident causing a severe compression fracture to her L1 vertebra. "I spent 6 months in a Jewett Brace undergoing physical therapy, incapable of bending, lifting, and certainly not working. By that time, any funds I had were completely drained, and against doctor's advice, I HAD to go back to work. I worked for Sears and Overwaitea consecutively for 2 years, until an anterior piece of the vertebrae split completely through, and the piece shifted down within my vertebral column. I was unable to walk for 3 months. My orthopedic surgeon ordered cessation of work in a job requiring standing, bending, or lifting. Limited options made me choose to return to Malaspina last year and complete the Business Technology Program. During this time I also met my common-law husband, bought a house, and adopted 2 cats. I just celebrated my 29th birthday, and currently I'm taking a well-deserved rest; renovating, free-lance web site developing, desk top publishing, and gardening! I'm not certain at this point if I will go back to work or start a family - but the future sure seems bright!"
After a brief sojourn in Oregon working on the Kudoa thyrsites life cycle, Christy Falkenberg returned to Nanaimo to continue work on Kudoa at the Pacific Biological Station. " I am currently working on Kudoa in vivo studies, as well as production for diagnostic assays and enzyme studies down at UVic. I also work with Loma salmonae, a gill parasite and PKX, a freshwater microsporidian. I am learning so much about both parasitology and fish biology. Life is good!"
Mike Johnston is at UBC in the Biochemistry and Molecular Biology Department working on his PhD. with Dr. Pieter Cullis. The efforts of Dr. Cullis's research group are directed towards gaining an understanding of membrane structure and function at the molecular level and using the information gained to therapeutic advantage. Particular interests concern investigations on the functional roles of lipids in membranes employing model membrane systems and the generation and use of appropriately engineered liposome systems for in vivo targeted delivery of biologically active materials. These biologically active materials include drugs, antisense oligonucleotides and plasmids containing therapeutic genes. "The main therapeutic focus of our group concerns cancer treatment."
Reziah Khan continues to work at the Pacific Biological Station with Dr. Richard Beamish. Their work focuses on the impacts of climate change on ocean productivity, and how factors such as plankton levels, salinity and temperature may influence Pacific salmon abundance in the Strait of Georgia. "We are still learning about the many factors that influence the population of a species. In fisheries science, all ecosystem dynamics must be considered in order to understand the fluctuations of these populations. This information is important as it will help with fisheries management decisions."
After graduating with his M.Sc. degree in the Biology Department at University of Victoria in April, 2000, Greg Murray began work as a research technician in Dr. Robert Burke's developmental biology lab at UVic last summer. "I published my first paper at the end of 2000, and I am currently busy working on 3 more. I took some time off and spent a few months travelling through Europe this past fall, and hope to return there soon."
Chris Reed graduated with his M.Sc. in the Biology Department at UVic in May, 2000. After graduation he worked on contract at the Forestry Centre in Victoria for a few months doing DNA fingerprinting on a virus that they hope to use as a Bio-Control agent against Tussock moths. Says Chris "it resembles the BTK model; however, it is a much better system as the virus is only pathogenic to this species of moth, not the genus or family and the virus is a really hot one. After primary infection it takes about 14 days for the larva to turn into goo!" Chris is currently employed by StressGen, a Biotech company in Victoria that develops anti-cancer treatments and vaccines. Currently he is working on a project to find a treatment for Hepatitis B. "It is a very cool job with lots of immunology, and I'm learning how to start and maintain a culture of T-cells so that I can blast them with Hepatitis B virus and monitor their response to it." Chris also got married on May 19, 2001. Todd Unger completed his M.Sc. in the Department of Biochemistry & Molecular Biology at the University of Calgary in August, 2000. His thesis involved generating gene targeting vectors using novel techniques in bacteriophage lambda. These targeting vectors were used to deliver mutations to specific sites in mouse embryonic stem cells in order to generate mouse models of human diseases. Todd is currently attending Ross University School of Medicine in Dominica, West Indies.
Since September of 1997, Corey Vink has been working for Archipelago Marine Research Ltd, a company in Victoria specializing in fisheries monitoring. " I have been employed as a fisheries observer, collecting data in the domestic groundfish trawl, halibut hook and line, and shrimp trawl fisheries. The work involves the monitoring of retained and discarded species, as well as biological sampling. One of our main duties is the collecting of length-sex and length-sex-age samples to give DFO biologists more information about the population structures about targeted species. The job is not anywhere near as exciting as it sounds, and I am looking towards going back to school to attain my teacher's certificate, although I have not completely ruled out working towards a master's degree if a grad school will have me. As far as recreation, and other activities in the past few years, I have continued to work as a ski instructor at Mount Washington in the winters. I think that was part of the reason I went into a field where work is sometimes quite seasonal. I was also fortunate to travel to Australia and the Cook Islands in 1998, where I got to pursue one of dreams, that of diving on the Great Barrier Reef."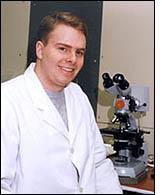 Upon graduation from Malaspina, Chris Whipps (winner of Biology Department's Outstanding Student award, 1997) spent 3 years at the Pacific Biological Station in Nanaimo working on the molecular aspects of various salmon pathogens. Since then, he has moved to the United States and is currently working toward his Ph.D. in Microbiology at Oregon State University. Chris' doctoral research is based on the widespread fish parasite Kudoa thyrsites and has involved a month long collecting trip to Australia's Great Barrier Reef and a trip to England this coming fall. Aside from his research project Chris is currently a Microbiology teaching assistant for several undergraduate laboratories. Recently, Chris was awarded a two-year NSERC scholarship in support of his research: "The experience and education I received at Malaspina is still paying off. Whether it is a graduate level course I am taking, public speaking or teaching, the Malaspina Biology department has provided me a solid foundation to build on."
1998 Graduates
Melissa Daniels graduated with honours from British Columbia Institute of Technology with a Bachelor in Technology in Environmental Health in June, 2000. She is currently employed by Health Canada, First Nations & Inuit Health Branch, located in Nanaimo. The area she is responsible for includes all First Nations Communities in the Mid-Vancouver Island region. Environmental health includes ensuring the health of community members with regards to where they live, eat, work and play. Says Melissa, "like any job, it has its ups and downs, but I make a fairly decent wage and get to travel."
Melinda Jacobs recently finished employment as the Marine Fish Hatchery Assistant Manager for Mahata Mariculture in May, 2000. She was involved with Halibut and Sablefish rearing projects; each requiring a complete understanding of algae and live invertebrate feed production, as well as egg fertilization, disease treatments, larval care and fish husbandry. Currently Melinda is working as a research technician at the Pacific Biological Station with Dr. David Welch. "My work focuses on many areas differing from the effects of global warming on salmon stocks along the Oregon-Alaska coast, to individual studies in fish tagging/monitoring, and predation by chum salmon on North Pacific coelenterates."
Blaise MacMullin is living in Athabasca, Alberta and started work at Athabasca University in July 2000. "I get to work on many interesting projects with the science department and hope to get involved in a recently funded project that will provide interpretive science displays on the Athabasca River. My son Izaak is now four and he has a young sister, Moira, who's almost two. My wife Helen and I are expecting another baby in June. Needless to say things can get busy on the home front!
1999 Graduates
Jennifer Corlett will be heading to Costa Rica for two months, starting June, 2001. " I will be working for an organisation called Amigos de las Aves. Their facility is a licensed zoological park called Flor de Mayo in Rio Segundo de Alajuela, Costa Rica. I will be helping with the conservation of both scarlet and great green macaws through rescue, captive breeding and reintroduction into protected areas. In addition, I will be travelling to southern Nicaragua and northern Panama. In Nicaragua I will be visiting Lago de Nicaragua where I hope to see the sharks that migrate into the lake (which is something like the 7th largest lake in the Americas). In Panama I am going to visit the Caribbean islands of Bocas del Toro to go snorkelling and see the endangered sea turtles laying eggs on the beaches. I am sure that the trip will prove to be both educational and exciting."
Ken Fong is currently working for Department of Fisheries and Oceans Canada at the Pacific Biological Station. "I hold down two positions, one is a clam survey technician working for Graham Gillespie in stock assessment. This position is strictly field and laboratory work which involves surveys of clam populations for clam depuration. The other position is shellfish program officer in the fisheries management branch of DFO. I work for Bruce Adkins on policy issues regarding shellfish management issues. Both positions are very interesting considering I get to work both in science and resource management. Before this, I was involved with goose barnacle biomass assessment surveys with Ray Lauzier for approximately four months. Prior to working for government, I was employed with the Regional Aquatic Management Society (RAMS) as their shellfish coordinator. RAMS is a non-profit organization made up of First Nations/non-First Nations whose whose purpose is to establish regional management of aquatic resources in the Nuu-chah-nulth territory and West Coast Vancouver Island (WCVI). My role as shellfish coordinator was to coordinate shellfish management issues, particularly shellfish aquaculture in the RAMS region. One interesting project I was involved with was coordinating the Bamfield Community Abalone Project. The project is to develop abalone aquaculture technology and has the potential for enhancement of wild populations. The project involves a very diverse group including the community of Bamfield, Huu-ay-aht First Nation, Bamfield Marine Station, UVic, DFO, Nuu-chah-nulth Tribal Council, Westwind Sealabs and Malaspina (Karen Leask and Bill Pennell), with RAMS being the project leader."
Colin Kaneen was accepted into the Renewable Resources Co-op program at British Columbia Institute of Technology in Vancouver, and will be starting in September, 2001.
Alison Keple (winner of Biology Department's outstanding student award, 1999) is continuing work on her thesis for her master's degree in the Zoology department at UBC. She is working on a population study of marine mammals in the Strait of Georgia. "I have finished collecting data, and am now analyzing and writing up. I am focusing on how the Fraser River affects the abundance and distribution of the local marine mammal species, and looking at seasonal patterns in abundance. Other than this, I kept sane (and distracted!) by finishing the Ironman Canada triathlon in Penticton last August". Alison will be presenting her results at the 14th Biennial Conference on the Biology of Marine Mammals in November, 2001.
After graduation, Corry Moes moved back home to Calgary, Alberta where he became involved with Alberta Environment's newly formed endangered species mandates. "I have worked extensively with many of Alberta's threatened and endangered herptiles, including the Prairie Rattlesnake. I was fortunate to be heavily involved in a episode of the Discovery Channel's "Champions of the Wild" featuring the Prairie Rattlesnake, which will air in the fall of 2001. Malaspina gave me the opportunity to familiarize myself with many biological techniques in an intimate and enjoyable setting...Thanks!"
Lesley Rowan left the field of science to pursue a degree in education. After a year and a half in the Malaspina Education department she qualified for a B.C. teaching certificate (B.Ed., 2000). Since graduating in December and enjoying a few months off she has been teaching on call in the Nanaimo-Ladysmith School District. She has been substitute teaching classes in secondary mathematics and sciences and hopes to be teaching more of the same in the fall of 2001 (ideally her own classes).
2000 Graduates
Andrew Cameron is enrolled in the Master's Degree program in the Department of Microbiology and Immunology at the University of British Columbia. " I work in the lab of Dr. Rosemary Redfield where we study the ability of bacteria to take up DNA from their environment, a process called natural competence. We are interested in how and why this mechanism evolved and also how this mechanism, which can lead to gene transfer between organisms, has influenced the evolution of the genome of our model organism, Haemophilus influenzae. I am investigating how H. influenzae regulates its ability to take up DNA in an attempt to understand why these bacteria take up DNA."
During the summer of 2000, Amelia Grant was employed by the Canadian Equality Assessment Laboratory (CEQAL) where she conducted diagnostic tests involving several areas of medical testing including microbiology, haematology, chemistry, pathology, and pharmaceutical research. In the fall of 2000, Amelia accepted a position at Active Pass Pharmaceuticals in Vancouver. Active Pass' primary interest is the development of therapeutic drugs, which act by altering the function of a family of molecular pumps known as ABC (ATP Binding Cassette) transporters. The company's most advanced program targets Alzheimer's disease which, according to one hypothesis, is caused by cell death resulting from the accumulation of a small peptide called b-amyloid. Amelia is involved in the drug discovery program that focuses on the regulation of b-amyloid efflux by ABC transporters. Amelia's research includes using mammalian cell transfection techniques to insert cloned DNA into neuronal cells. Her research then focuses on subjecting the transfected cells to an array of experiments including candidate drug treatments, which may have an effect on the regulation of b-amyloid through ATP binding cassette transport. In her spare time, Amelia swims, snowboards, cycles and has recently taken up scuba diving.
In Fall 2000, Andrea Griffiths was awarded the Neotropical River Fellowship and traveled to Belize to conduct water quality analysis on the Belize River for four months. She not only worked on the water quality project but also taught the molecular biology labs for the Genetics course at University of Belize. Andrea also assisted the Belize Women in Science. "It was an awesome experience and I learned a lot! When I returned from Belize I did a little job hunting and then traveled to the US for 6 weeks doing some sightseeing, including the Grand Canyon and Las Vegas. In April I started my job hunting again and I am pleased to say that I will be starting work at the Centre for Molecular Medicine and Therapeutics in Vancouver at the beginning of June."
Christa Hrabok first traveled, then worked at a gold mine up north and finally settled with an internship with the Herring Conservation Society and DFO at the Pacific Biological Station in Nanaimo. Christa has been involved with a wide variety of experiences within the realm of herring. "Coded-wire tagging herring is relatively new and I have been fortunate to be involved with this project. Tank studies were carried out to find the best location of a tag-site, with a follow up of histological work that will determine what, if any, damage occurs to the tissue surrounding the tag. After the tank trials, we went to sea for a month to seine herring near their spawning grounds for tagging purposes. In a month, we tagged nearly 150,000 fish from Georgia Strait and Prince Rupert areas. Now, I am in the lab prepping the histology work (making slides) and have started to write my first technical report. I am also involved with the juvenile herring surveys, both field and lab work. An internship is a fantastic way to begin a career. It gives you vast experience and great contacts for the future. Mal-U has definitely been a solid part of my drive for a career. The relationships and contacts formed with faculty and staff were, and still are, extremely supportive. The class sizes and lab experiences were optimal as interaction with the faculty was constant and learning was endless!"
Willie Jeffries is currently employed by the Federal Public Service in Ottawa (Statistics Canada) and resides in Quebec. "The work is OK (e.g. biotech surveys, health surveys etc.); however, I have been writing internal competitions for DFO and Health Canada which would be much better. I will be returning to BC for the summer to work as a guide out of Nootka Sound." Willie recently got married in Calgary.
Aaron Jex is currently living in Victoria, and has been accepted at UVic to begin a Ph.D. program, working with Dr. Francis Nano. "His research centers around the study of cold temperature bacteria, and understanding what genes they express that allow them to live at such cold temperatures. Once these genes are better understood, the aim is to use them to genetically modify bacteria capable of metabolizing a variety of organic pollutants, and using them to degrade these pollutants in high arctic climes, where normal degradation/decomposition is not possible due to the cold conditions. A more exciting, though less concrete opportunity that has become available to me, is the chance to study at the University of Queensland (UQ) in Brisbane, Australia. The opportunity has become a little more likely since I have been awarded a $20,000 dollar scholarship to study abroad. The last details have yet to be hammered out, but I have been speaking with Dr. Tom Cribb, at UQ and things are starting to come together. If I go to Australia, I would be studying the hindgut parasites of the Australian cockroach in order to develop a model system to better understand the interactions of competing species in a closed system. Obviously the second is the more exciting opportunity, but I have to wait and see what happens I suppose."
Adrian Ladouceur is working with Dr. David Welch as a research technician at the Pacific Biological Station. His work focuses on many different areas, including the effects of global warming on salmon populations, fish tagging/monitoring and various salmon ecology studies.
Dawn Locke is currently volunteering at a Wildlife Rehabilitation Centre in Alberta. "I'm trying to narrow down my decision on what I wish to do for my Master's Degree. My partner and I are very happy and are expecting a little one for Christmas. So until then I'll will be taking it easy, renovating our house and volunteering. I never thought that I would enjoy a volunteer position but the Rockyview Rehab Centre is great. They work really hard at rehabilitating injured wildlife and then releasing them in a safer location. I have increased my critter load as I've taken in a few more abused animals that are all doing great now. I have also started my own company making custom animal harnesses, leashes, halters, and organic treats. It's going a little slow, but people seem to enjoy them and I'm having fun doing it (my 6 critters definitely enjoy taste tasting!)."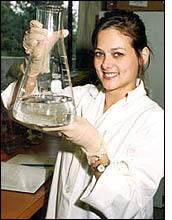 Upon graduation and until the end of May, 2001 Tina McCann (co-winner of Biology Department's outstanding student award, 2000) has been working as a lab technician for the Ministry of Agriculture Food & Fisheries in the Fish Health Lab. " On June 1st I began an eleven month molecular biology internship in the same lab. The main focus of the internship is to develop a PCR test for the detection of Herpesvirus salmonis. The test will then be used to evaluate the prevalence of this virus in government hatchery-cultured and wild trout stocks."
After graduation, Kim Taylor set out with her boyfriend on an 11 month adventure through Europe, Morocco, Turkey and Egypt. "What a wonderful experience! We spent a week in the tiny village of Gimmewald nestled in the snowy peaks of the Swiss Alps. Here we enjoyed daily arduous hikes in some of the most beautiful scenery I have ever seen. Morocco was beautiful, my favorite country for sure. The Arabs are such friendly and hospitable people. I had no idea the landscape is so diverse. In the north you might think you are in Britain with the lush rolling green hills. Less than a day's drive away are the dry and dusty dunes of that massive Saharan desert. You can never get bored of walking through the dunes. Just pick the biggest one, climb it, and when you get to the top slide down the side a bit to make the perfect little lounge chair for yourself, and have a nap until the sun sets. While in Egypt it was a neat experience to sail up the Nile and visit all of the little villages. We also visited many of the ancient Egyptian sites and temples. What an amazing civilization! Now that I have returned to beautiful BC (and it is so beautiful! We are so lucky to live here!), I will start that job hunt that most of my friends have been doing since I have left. I hope I will be as successful as them. I am so proud of everybody! The Malaspina graduates seem to be doing quite well. This says a lot for the program. My five years spent studying biology were very valuable. I can't wait to get out in the real world and use some of my skills."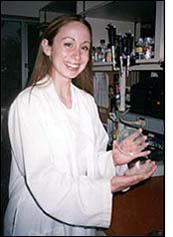 Tanya Wood (co-winner of Biology Department's outstanding student award, 2000) is currently enrolled in the PhD program at UBC. She has finally completed her classes and have been able to get into the lab and get started on research. "My project has changed, it's now entitled "Proteomics-Based Analysis of Platelet Storage Lesion" and I'm affiliated with Canadian Blood Services. In a nutshell, I am trying to determine why platelets cannot be stored in blood banks for more than 5 days. After the 5-day period, platelets are outdated and discarded due to the fear of bacterial contamination and the fact that their clotting efficacy decreases drastically as a result of biochemical deterioration. To address this issue of platelet storage lesion, I am involved in the development of 2-D liquid chromatography techniques coupled with mass spectroscopy to separate and analyze platelet proteins on a cellular-wide scale. The hope is that I will be able to pinpoint differences at the protein level in platelets that have been freshly isolated versus those that have been stored for 5 days. I use my own blood to obtain the platelets, so I guess the only drawback is being a blood donor ! I have recently been awarded a full NSERC scholarship that will fund my grad studies for the next 2 years; again, a real honour. I didn't think I'd even get into graduate school, let alone get funding! I am getting quite involved with 2 great volunteer organizations - Scientists and Innovators in the Schools (SIS) and Society for Canadian Women in Science and Technology (SCWIST). In fact, I was able to visit Malaspina recently to be the keynote speaker for the Ms. Infinity Conference (trying to keep grade 9 and 10 girls interested in careers in math and science)! And, most importantly, I'm also getting married on August 10, 2002."
2001 Graduates
Mandy Butler has just finished Malaspina's first summer course, an intensive, hands-on laboratory course in Molecular Techniques. "After completion of the cloning course, I can confidently venture out into the work force. I am actively pursuing careers on the Island and in Vancouver in the microbial/molecular field. I also would like to say that the knowledge skills and experience that I have gained from Malaspina has been an invaluable opportunity and I look forward to the road ahead."
Immediately upon graduation, Shannon Derkson was approached by Dr. Gerhard Gries at Simon Fraser University whose research deals with aspects of insect chemical ecology, specifically attempting to decipher the chemical language that insects use to communicate. This summer Shannon is working on an insect called the Peach Tree Borer, a clear winged moth, attempting to find out what attracts or repels them from peach trees and other fruit crops in the Okanagan Valley. "We travel to the Okanagan each week and scour the orchards for cocoons (its very fun and exciting believe it or not!) and bring them back to the lab, where, under our 'expert' care, they will hopefully hatch into beautiful adult moths. The people in this lab are amazing, helping us to elucidate the actual chemical structure of the moth's sex pheremone using very hi-tech equipment and even actual amputated male antenna to test the sexiness of the putative pheremone. Ultimately we hope to create a synthetic blend of compounds that we can use as lures to help control this insect pest in the Okanagan." Equally exciting is that Shannon has been accepted into the Masters in Pest Management Program at Simon Fraser University, starting September 2001. "I will be spending the next two or three years completing course work on an incredibly wide range of subjects including vertebrate pests, insect development and reproduction, plant disease development and control, and nematology". She will also do a Master's thesis on an aspect of pest management, possibly incorporating parasitoids into the biological control of insects.
Tanya Giesbrecht is currently working on a project coordinated by Ministry of Environment (Port Alberni office) and Weyerhaeuser. "My official title is marbled murrelet observer and crew leader. I do pre-dawn forest surveys looking for marbled murrelets, habitat plots, and do predator point counts with a co-op student from Camosan College."
Immediately upon graduation, Kim Jonsen received a molecular laboratory technician position at Pacific Biological Station anaylzing microsatellite loci of chinook salmon. "I'm quite excited at the opportunity and hope to learn a lot about fish genetics. A lot of the techniques I will be performing at PBS I had done on my 491 project so my experiences at Malaspina have definitely helped me get a job in a field that I am interested in."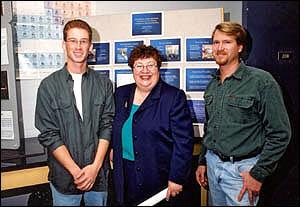 Since finishing at Malaspina last month, Donovon Lynch has been working with Environment Canada at the Pacific Biological Station. "I am working on the effects of ultraviolet radiation on freshwater microbial communities as part of a Forest Renewal B.C. grant. The contract that I am currently hired under lasts for 22 weeks. We (my supervisor and I) are in the process of trying to get me signed on as a full-time term employee. My work includes field work as well as laboratory work."
Since graduating from Malaspina, Mike Russell (winner of top student in Biology award, 2001) has moved to Vancouver to work for the summer. He is working as a pseudo-environmental chemical analyst for a small geotechnical engineering firm involved in in situ site analysis (Many thanks to Dr. Erik Krogh of the Chemistry Dept. for his help, both in the past and present). In September, Mike will again be moving, this time to Calgary to begin his Masters (and eventually PhD he hopes) degree in Molecular Biology at the University of Calgary. Mike will be working on a project that involves characterizing a new protein that appears to act as a tumour suppressor as well as be involved in the process of cellular aging. "I believe that my hands-on experience in the lab as a part of my degree requirements at Malaspina is what sets me, and other Malaspina Biology graduates, apart from graduates of other institutions. I have no doubt that it was this experience, coupled with the diversity of knowledge that I gained from various courses, that allowed me to get into graduate school with full funding."
Since graduating from Malaspina, Mike Russell (winner of top student in Biology award, 2001) has moved to Vancouver to work for the summer. He is working as a pseudo-environmental chemical analyst for a small geotechnical engineering firm involved in in situ site analysis (Many thanks to Dr. Erik Krogh of the Chemistry Dept. for his help, both in the past and present). In September, Mike will again be moving, this time to Calgary to begin his Masters (and eventually PhD he hopes) degree in Molecular Biology at the University of Calgary. Mike will be working on a project that involves characterizing a new protein that appears to act as a tumour suppressor as well as be involved in the process of cellular aging. "I believe that my hands-on experience in the lab as a part of my degree requirements at Malaspina is what sets me, and other Malaspina Biology graduates, apart from graduates of other institutions. I have no doubt that it was this experience, coupled with the diversity of knowledge that I gained from various courses, that allowed me to get into graduate school with full funding."
Immediately after graduation, Jennifer Toole and Corey (my horse) were off for three weeks of horse showing "with some major successes and major crashes to keep my ego in check." Jennifer is currently working at the Pacific Biological Station in the South Coast Branch doing work with the shellfish biologists and conducting field work during the prawn fishery. Plans for the this summer include an attempt at the MCAT.
Tina Younker is currently working as a field technician for the Johnstone Strait Creel Survey, which is involved with monitoring of the recreational salmon and groundfish fisheries. This involves data collection of fish taken by sports fishers from marinas on Salt Spring Island.