Composed by Tim Goater on June 20, 2000. Thank you to all the graduates who have supplied the information for the first annual newsletter. Hopefully, each newsletter will provide a way of keeping you up to date with what your fellow graduates are doing, as well as keep you posted regarding the latest news in the Biology department at Vancouver Island University. We'd like to stay in touch with you so each spring I will send out an e-mail message reminding you to provide me with your updates. I hope you enjoy reading what your friends are up to. Stay in touch and keep up the great work!
Greg Sandland and Amy Weber were graduates of University of Victoria's Biology Department in 1996 and spent three years at Malaspina and got their research experiences in parasitology at Malaspina and the Bamfield Marine Station. Greg recently completed his M.Sc. degree in ecological parasitology at the University of Lethbridge. He has been awarded a prestigious National Science and Engineering Research Council of Canada (NSERC) scholarship to pursue a Ph.D. program at Purdue University, West Lafayette, Indiana in the fall of 2000. Amy Weber is currently (spring, 2000) doing a M.Sc. degree in public health and epidemiology in the Department of Epidemiology and Biostatistics at McGill University in Montreal. Amy's thesis will look at risk factors associated with prostitution and HIV among female street youth in Montreal. Says Tim Goater, "Both Amy and Greg are great examples of students who experienced the thrills of curiosity-driven basic research at a small institution and then decided to pursue a graduate education and an academic career".
Dianna Saam (B.Sc., 1996), was accepted into probably one of the most difficult professional schools: the Veterinary Medicine Program at the University of Saskatchewan in Saskatoon. During her second year of veterinary school she was judged the top student in her class. With this prestigious honour she was awarded a full tuition waiver. During the summer of 2000 she reignited her parasitology research interests and conducted a survey of the parasites of bison and elk ranches throughout Saskatchewan. During the summer of 2000 Dianna will complete a 12-week apprenticeship program at a veterinary clinic in Nanaimo. Next winter she is planning on heading to Kentucky to work in a large animal hospital, specializing in horses.
Cheri Ayers, B.Sc., Biology, (B.Sc., 1996), worked for 3 years as a consultant for various government groups and non-profit organizations. In 1998, Cheri secured a full-time position with Cowichan Tribes First Nation in Duncan as the Fisheries Biologist. Her duties included stock assessment, habitat surveys, responding to referrals related to impact events, and providing general biological support to the Aboriginal Fisheries Department. Cheri has recently received a promotion to Habitat Steward with the Cowichan Tribes and will be working on protecting fish habitat on reserve lands.
Jason Lewis (B.Sc., 1996) is currently completing his Master's Degree in the Faculty of Environmental Design at the University of Calgary. For his Master's thesis Jason determined areas of potential habitat for endangered Vancouver Island marmots on Vancouver Island. He uses a combination of research techniques to collect information, including remote sensing, Geographic Information Systems and field surveys. From this information Jason says "I hope to develop a habitat suitability model, and apply it to selected areas of Vancouver Island. The goal is to have a number of habitats identified and rated for when we have captive-bred marmots to release into the wild."
After graduation in 1996, three graduates, Janna Jorgensen, Lisa Kerley (winner of Biology Department's Outstanding Student award, 1996) and Andrew Howes travelled to Taiwan to teach English as a second Language (ESL) for a year. According to Janna they had an amazing experience learning Mandarin and Taiwanese culture. Upon her return, Janna took an ESL course and was employed by VIU in the International Education Department as the Homestay Coordinator until July, 2000. Lisa completed her nursing degree in Vancouver and Andrew received his teaching certificate in Vancouver this past spring.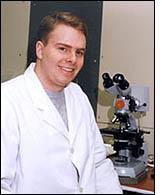 Upon graduation, Chris Whipps (B.Sc. 1997; winner of Biology Department's Outstanding Student award, 1997) was employed for 3 years in the fish disease laboratory of Dr. Michael Kent at the Pacific Biological Station. During the fall of 2000 Chris began his Master's Degree at the Salmon Disease Research Laboratory affiliated with the Department of Microbiology at Oregon State University, Corvallis, Oregon. Chris' thesis will examine the molecular taxonomy of an important salmon parasite, Kudoa thyrsites. Chris says the following about his education at Malaspina: "The high caliber instruction and small class sizes in the VIU Biology Department allowed close interaction between students and professors as well as provided a broad spectrum of laboratory experience. This experience has been invaluable working outside academia as well as continuing education at the graduate level."
Christy Falkenberg (B.Sc., 1997), is a research assistant in the Microbiology Department, working at the Hatfield Marine Center in Newport, Oregon. Christy is attempting to determine the invertebrate host involved in the complex life cycle of the salmon parasite, Kudoa thyrsites.
Both Greg Murray and Chris Reed graduated from Malaspina in 1997 and then began their Master's degrees in the Biology Department at the University of Victoria. Greg's thesis focussed on an important question in developmental biology, specifically, determining the functions of certain cell receptor proteins in mediating early embryonic development. Greg says "My thesis topic was characterizing the expression of the BetaC integrin subunit during early development of the sea urchin. Integrins are cell surface receptor proteins that are expressed on the surfaces of all animal cells. The one I worked on in urchins appears to have several functions throughout early development, including mediation of a number of interactions between embryonic cells and the surrounding extracellular matrix. In vertebrates, integrins have been shown to be extremely important during development; if their expression is altered, massive deformities and/or death are most often the result. The functional characterization of these receptor proteins (which are highly conserved throughout all animal species) in a model species such as the sea urchin will provide very useful information for determining how they function in virtually all other animal species. Greg has the following comments regarding his education at Malaspina, "I can honestly say that the education I received at Malaspina better prepared me for grad school. Aside from the high level of instruction that I received from the professors at Malaspina, the small class sizes afforded me the type of hands-on lab experience that is simply unavailable at larger universities. Upon entering the graduate program, I found that I had a much higher level of lab experience and technical skills than most other beginning grad students. I think the instruction I got at Malaspina has been very important in determining how I am conducting my own research and how I am teaching. You know how kids tend to eventually look and sound like their parents? Well, it's kind of like that, but in an academic/scientific sense!" Both Greg and Chris successfully defended their Master's theses this spring (2000) and are currently working in the molecular biology laboratory at UVIC.
After graduation, Todd Unger (B.Sc., 1997) enrolled in the Master's Degree program in the Department of Department of Biochemistry & Molecular Biology at the University of Calgary. Todd's thesis examined the potential for delivering a point mutation into mouse embryonic stem cells in order to make a mouse model for a particular eye disease. He recently (1999) published his results in the journal, "Nucleic Acids Research".
Alison Keple (B.Sc., 1999; winner of Biology Department's Outstanding Student Award, 1999) is doing her M.Sc. degree in the Department of Zoology at the University of British Columbia. She is also funded by BC Ferries and the Vancouver Aquarium, doing her thesis research on the population dynamics of whales and dolphins in the Strait. of Georgia. Alison says of her education at Malspina, "Malaspina has given me a great perspective on the different fields in biology. In addition to a variety of courses, I was able to do independent research in an area I found fascinating. A big advantage of Malaspina is the chance to conduct field research, something that not many schools can offer. My field experience has prepared me very well for my graduate work at UBC".
Tanya Wood, (B.Sc., 2000; co-winner of the Biology Department's Outstanding Student Award, 2000) has enrolled in the Ph.D. degree program in Biochemistry and Molecular Biology at the University of British Columbia. Rob Wager (Biology Department) says "very few people are permitted to go directly into the Ph.D. program, so this speaks volumes about our program at VIU." Tanya has been awarded a full university graduate fellowship to fund her graduate studies at UBC. In Tanya's words "I'm still in awe and totally overwhelmed about receiving the fellowship, it is really an honour". Tanya`s dissertation research will involve the protein transferrin, a major iron transport protein in human blood that transports iron from the sites of absorption in the gut to all cells that require iron. Tanya was employed in a molecular biology laboratory at UBC during the summer of 1998 where she used in vitro mutagenesis techniques to alter specific regions of the gene encoding transferrin. She then expressed the altered genes in yeast and began preliminary characterization of the mutant proteins. Her research will focus on using these mutated forms of transferrin to determine how transferrin binds to its receptor protein on the cell surface, and how the iron is released from this complex within the cell. Tanya says, "Obtaining an undergraduate degree at Malaspina was one of the best choices I could have made. Not only did I gain a strong theoretical background in my field but, due to both upper level courses and from working in the labs at Malaspina for a year, I was able to gain much practical lab experience. Also, due to the relatively small class sizes, I was able to establish a solid rapport with many faculty members. The support and enthusiasm of Malaspina faculty and students, as well as the requirement that each graduating student complete a supervised research project, make the Malaspina Biology Degree program a success".
Andrew Cameron (B.Sc., 2000) [News Release], is enrolled in a unique M.Sc. degree program linking the Biology, Biochemistry and Genetics departments at UBC. Andrew's thesis will combine his interests in microbial and molecular evolution and focus on aspects of the evolution of sexual reproduction. Specifically, Andrew will be working primarily with the uptake system used by Gram negative bacteria to gather naked DNA from their environment and how this uptake leads to transformation through gene exchange. In Andrew's words "This position is a dream come true as I get to work in molecular and microbiology, and throughout there is a heavy dose of my favourite thing: evolutionary theory." Andrew also mentions how much he enjoyed the atmosphere at Malaspina: "I very much appreciate the opportunities a small school like Malaspina provides, for I'm sure there are few other places I would have received such training on becoming a scientist. My ability to walk into a graduate research lab here at UBC knowing what to do shows the advantage of the undergraduate research experience at VIU."
Allan Gibson (Biology Department) supervised both Tanya and Andrew for their independent research projects in molecularelopmental biology. He states, "I was absolutely thrilled to find that Tanya and Andrew had been accepted into grad studies at UBC. This is what faculty members at VIU are committed to, the success of our students."
Andrew Cameron was also awarded a Belize fellowship during the fall of 1999. He spent the last few months searching for cholera in Belize while on a Neotropical River Fellowship, and funded by a grant for water quality training at the University College of Belize (UCB). Matthew Hoch (Biology Department) commented that "the faculty at UCB whom Andrew worked with had nothing but praise for his technical performance and as an ambassador for Vancouver Island University and Canada".
Mike Johnston (B.Sc., 1997), has been working for a biotechnology company (ANORMED) in Vancouver, specializing in cancer drug development. He has been accepted into the M.Sc. degree program in the Department of Biochemistry and Molecular Biology at UBC starting September, 2000.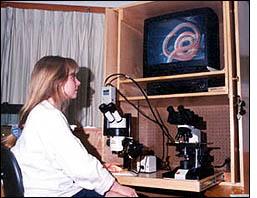 Shelley Jepps (B.Sc., 1997) [News Release] is currently employed as a Habitat Auxiliary for the Habitat and Enhancement Branch of DFO. Her duties include reviewing and commenting on a variety of habitat development referrals as well as promoting stewardship of fish and fisheries habitat. Shelley says, "The instructors and technicians of Malaspina have provided me with a solid biological background, enhanced with hands-on field and laboratory experiences which has enabled me to be competitive in the job market". Shelley recently (2000) had a paper published with Tim Goater in the journal, "Comparative Parasitology". Shelley did this research as part of her independent research project conducted at Malaspina.
Melissa Daniels (B.Sc., 1998) is completing a 2 year degree program at British Columbia Institute of Technology and will receive her Bachelor of Technology degree in Environmental Health in June, 2000. Melissa is currently completing a practicum experience with Health Canada, First Nations Environmental Health Services in Nanaimo. In October, she will be writing a National Board of Certification Exam to become a certified Public Health Instructor.
The Department of Fisheries and Oceans (DFO) at the Pacific Biological Station has also employed several Malaspina biology graduates over the past 5 years. Thus, Julian Sturhahn (B.Sc., 1998) works full-time for DFO, examining issues surrounding stock assessment and fisheries management in the Strait of Georgia. He is a salmon technician and is currently in charge of the Georgia Strait Creel Survey that is a program designed to estimate sport fish catch for the Strait of Georgia. Interviewers are stationed at various boat launches across the region and interview sportfishermen when they return from a fishing trip. According to Julian, "We charter planes to conduct aerial boat counts for a certain time block and this is extrapolated to a total boat count by area by day. From the interviewer data we are able to generate an activity profile for the day (i.e.: How many boats fished at the different time blocks throughout the day). This profile is used in conjunction with the aerial boat counts to get an estimate of boats fishing an area on a given day. Estimates are generated bi-weekly and can be used for in-season management. In addition, we collect a variety of biological data including scales for aging fish, as well as DNA for stock origin determinations".
Melinda Jacobs (B.Sc., 1997) is currently working on two projects at the Pacific Biological Station. One is with Dr. David Welch, who is trying to determine the effects of global warming on salmon stocks. Melinda's other position is as a Marine Fish Hatchery Assistant Manager for Kim Mauriks and Dorcas Point Farms. She is currently involved with halibut and sablefish-rearing projects; each requires an understanding of algae and live invertebrate feed production. Her primary focus is to look after all the egg fertilization, treatments, larval care and fish husbandry.
Reziah Kahn (B.Sc., 1997) is working at the Pacific Biological Station with Dr. Richard Beamish as a research technician. Their work focuses on the impacts of climate change on ocean productivity, and how factors such as plankton levels, salinity and temperature may influence Pacific salmon abundance in the Strait of Georgia. Both Ian Matthews (B.Sc., 1999), and Adrian Ladouceur (B.Sc., 2000), are also employed by the Pacific Biological Station in various fisheries-related projects.
Jennifer Corlett (B.Sc., 1999) is excited to be presenting aspects of her undergraduate research project entitled "Comparison of the RCMP physical ability requirement evaluation with selected physical performance tests". She conducted this research with Patrick Neary at Malaspina. Jennifer will be presenting her results at the American College of Sports Medicine meeting in Indianapolis in May, 2000.
Tina McCann (B.Sc., 2000; co-winner of the Biology Department's Outstanding Student Award, 2000) -[News Release] has been hired during the summer of 2000 by the Ministry of Fisheries. Tina will be working with Sally Goldes in the Fish Health Unit virology laboratory. Tina's research will involve conducting virology assays for diagnostic testing of fish samples for the provincial hatcheries. Tina, Amelia Grant (B.Sc., 2000) and Candace Boyle (B.Sc., 2000) presented the results of their independent research projects at the BC University College Research Conference, held at Malaspina in May, 2000. Amelia Grant is excited to be employed by the Canadian Reference Laboratory in Vancouver, a facility whose mandate is to monitor the quality of diagnostic testing in clinical medical laboratories across Canada. Amelia's work will involve several areas of medical testing including microbiology, hematology, chemistry, pathology, and pharmaceutical research.
Christy Sturhahn (B.Sc., 2000), and David Nagtegaal (B.Sc., 2000), are employed during the summer of 2000 as field technicians for the Johnstone Strait Creel Survey, which is involved with monitoring the recreational salmon and groundfish fishery. This involves data collection from ramps and marinas and the sport fishers are interviewed when they land their catch at the designated sites. Data collection involves recording catch and release and fishing effort information by species and acquiring biological samples for age determination. All chinook and coho salmon are examined in order to detect coded-wire tagged (CWT) fish. Additional biological data collected includes DNA, scales, length, and sex from chinook salmon. Fin rays from lingcod are collected and halibut weights are also recorded.
David Drakeford (VIU - Dean of Science and Technology) states "The record of VIU biology students obtaining work and acceptance into graduate programs speaks highly of the training that students receive at Malaspina. For these students the hands-on experience and the small class size more than compensates for the "name" of larger institutions. With graduates like these we can feel confident that we are providing a high quality undergraduate education at Malaspina."