August 2018
The RMOT Diploma program is now recognized by the College of Applied Biology (https://www.cab-bc.org/memb…/registered-biology-technologist). RMOT diploma graduates will meet the academic requirements for entry as a Registered Biology Technologist with the College. This will apply to students who graduated from the program beginning with the 2017/2018 cohort.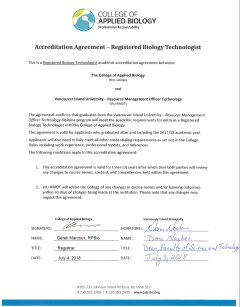 October 2014
Welcome to our first International Student, Norberto.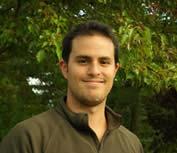 Norberto is from Sao Paulo, Brazil.  He came to Nanaimo for the RMOT program in order to help him change his career and fulfill a goal of being able to be more involved and educated in the ways of a conservation agent (not necessarily enforcement).  Norberto was directly prompted to the RMOT program through an internet search and that is where he started to research into the Diploma program.  There are no comparable programs offered in Brazil so he is hoping that what is gained over the two years can be taken back and applied and introduced to others on what is available.
Norberto recently acquired one of the student work-op positions, assisting in the Center for Shellfish Research. He will be involved in looking at previous research data that has been collected as well as assisting with repairs and calibration of equipment that he has prior experience with.
About the RMOT program so far, Norberto says he is impressed with the thoughtfulness and consideration provided by the RMOT faculty. He also states that it is great to be included in the level of camaraderie from fellow students with outside activities (hikes etc) as well as study groups. Norberto says that the level of interaction from both faculty and fellow students are a true reflection of the program.
Welcome Norberto!
June 2014
Congratulations to our Diploma and Natural Resource Protection Degree Students who celebrated convocation on June 4th at the Port Theatre! This is the first year that Diploma students have been included in Convocation which was wonderful to see!
April 2014
Congratulations to our graduates (diploma and degree) who have been successful in the recent hirings as Natural Resource Officers with BC Minsitry of Forests, Lands and Natural Resource Operations. (5)
January 2014
Congratulations to a Natural Resource Protection Bachelor Degree graduate who had her convocation today, January 31, 2014 at the Port Theatre! We all are celebrating your success!
August 2013
Congratulations to one 2012 Natural Resource Protection Bachelor Degree graduate, two 2013 RMOT Diploma graduates,and one 4th year student that were successful in the BC COS competition
--We congratulate you in your new careers!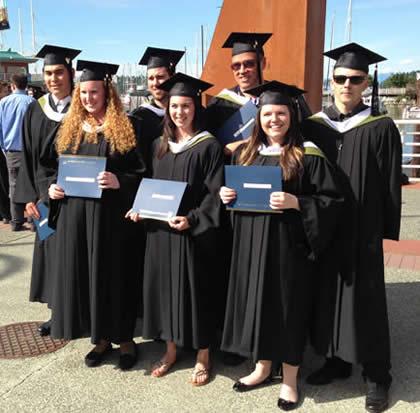 June 4, 2013
Congratulations to all twelve Bachelor of Natural Resource Protection Degree graduates
Convocation is being held at the Port Theatre today and streamed live on the VIU homepage! Looking forward to seeing you all --and to those that can't be here today due to work committments-- Congratulations and we will miss you!
January 2013
Information Session has been set for :
Date: Monday, January 28, 2013.
Time: 6 to 9pm
Location: Building 356 Room 109
November 2012
Thanks to Loni Arman for submitting her alumni profile to our spotlight page! Click on the link to read about Loni's RMOT and BNRP experience and the career path she has been on since. Congratulations Loni!
June 2012
Thanks to Jerry MacDermott for submitting his alumni profile to our spotlight page --Click on the link to read about Jerry's RMOT experience and the career path he has had since. Congratulations to Jerry!
Convocation
The faculty of the RMOT Department would like to congratulate our fourteen students on their successful completion of The Bachelor of Natural Resource Protection Degree Program. Convocation was held June 4, 2012 at the Port Theatre.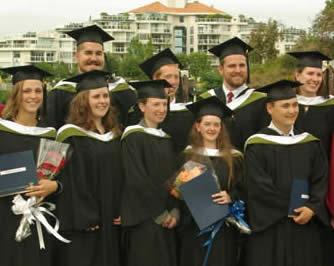 February 2012
Information Session is scheduled for RMOT, Foresty and Fisheries and Aquaculture Departments for :
FEBRUARY 27 at 6 to 9pm in building 355 Room 203
(Applications are being accepted until March 31, 2012)