During the 1980's, the Department of Fisheries and Oceans Canada identified the need for a British Columbia based Fish and Wildlife Law Enforcement Conservation program.
Dr. C.W. (Chuck) Chestnut left his post as a fisheries instructor at the BC Institute of Technology (BCIT) and moved to Nanaimo in early 1986. Chuck consulted with enforcement representatives from D.F.O. and BC Ministry of Environment, to establish a course plan and general content that would form a comprehensive two-year diploma program.
The Resource Management Officer Technology program received Malaspina College support, particularly from the M.U.C. Fisheries & Aquaculture program. Dr. William (Bill) Pennell threw his support behind the new program. The RMOT program started its first year in September 1986, with Chuck Chestnut as the primary instructor. Chuck taught with the program until 1999 and continues to be recognized as an Honorary Associate with RMOT.
In August 1987, John Merriman was hired from the B.C. Conservation Officer Service, to instruct the second-year legal, investigative, legislation and habitat protection courses. John instructed with the RMOT program full time until 2004 and remains involved as a sessional instructor and member of the Advisory Committee.
The early years of the program saw 18 students enter first year, with 16 or 17 graduating with their diplomas. In 2009, intake was increased to 24 seats.
Since those early days the RMOT program, faculty numbers and reputation have grown. The program recently added a Bachelor Degree of Natural Resource Protection in September 2006 and increased the number of full-time faculty accordingly.
Many thanks to Chuck and John for designing a program with a firm foundation and excellent reputation that remains highly sought after in today's competitve job market.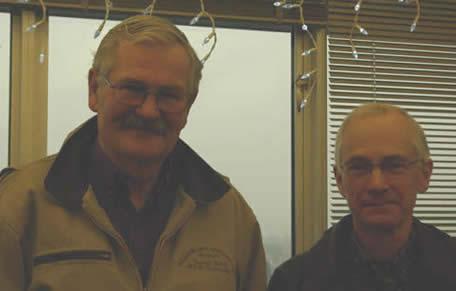 Photo taken Dec 2013 Chuck Chestnut (left) John Merriman (right)