Admission Requirements
Admission to the Bachelor of Science in Fisheries & Aquaculture takes place at the first, second or third-year level.
Admission to third year requires completion of a minimum of 54 credits of university study, see Program Outline. In addition, admission to the B.Sc. program (including the practicum courses, FISH 371/372) will require an interview with the faculty that can be arranged during the second year. The interview will determine the student's understanding of the current fisheries and aquaculture industry. This interview is necessary, as these two courses involve considerable work with institutions or companies outside VIU. Advanced standing may be granted for previous course work.
Courses in first year have prerequisites. To satisfy all first-year course prerequisites, students must complete the following B.C. Secondary School courses, or equivalent:
English 12 with a minimum grade of "C."
Biology 11, Chemistry 12, and Principles of Physics 11, all with a minimum grade of "C+".
One of Principles of Mathematics 12 or Pre-calculus 12 with a minimum grade of "B".
Biology 12 and Physics 12 are recommended but not required.
Some seats are available for students who have completed Chemistry 11 with a "C+" but have not completed Chemistry 12.
Students who are lacking any or all of the above-noted prerequisites for first-year courses should speak with a VIU Advisor about upgrading courses.
About the BSc
The Bachelor of Science Degree in Fisheries and Aquaculture
is comprised of courses offered in the 2-year diploma program, upper-level lecture & research based Fisheries and Aquaculture courses,english, biology, chemistry, math, physics courses and non-science and free electives. If you are currently enrolled in the B.Sc. See a list of upper level science course suggestions.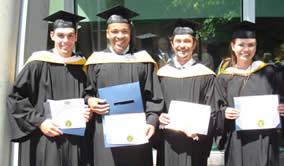 In order to graduate, students must meet with the Department Chair to verify all course requirements have been completed. See all courses required to complete the Bachelor of Science in Fisheries and Aquaculture. If you have taken courses at another BC post-secondary institution visit the BC Transfers web page to see if your courses are equivalent (and therefore transferable!) to required courses for the B.Sc degree in Fisheries and Aquaculture at Vancouver Island University.
Just to clarify ...There are two options for completing the Bachelor of Science Degree in Fisheries and Aquaculture. The most popular option is students first complete the 2-year diploma and then begin the B.Sc. degree. Alternatively, students can enroll directly in the B.Sc degree.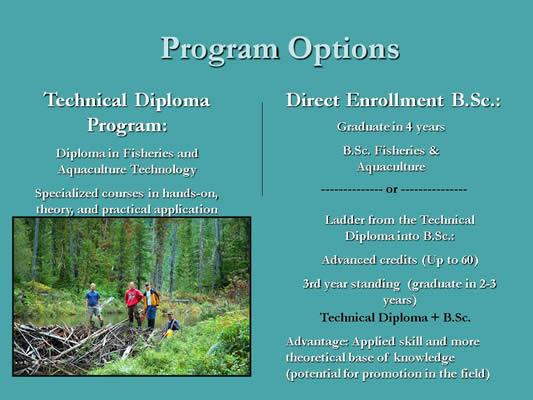 Upper Level Science Elective Suggestions
*Note - students that have completed the diploma have all the prerequisites (min. "C-") to take the below listed courses.
| | |
| --- | --- |
| ASTR 311 | Exploring the Universe |
| ASTR 312 | History of Astronomy and Cosmology |
| BIOL 305 | Animal Physiology |
| BIOL 315 | Parasitology |
| BIOL 320 | Aquatic Ecosystems |
| BIOL 322 | Terrestrial Ecosystems |
| BIOL 329 | Vertebrates of BC |
| BIOL 351 | Population and Community Ecology |
| BIOL 354 | Bryophytes and Vascular Plants |
| BIOL 357 | Entomology (students - start collecting bugs over the summer!) |
| BIOL 358 | Comparative Vertebrate Zoology |
| BIOL 360 | Intro to Animal Behavior |
| BIOL 395 | Tropical Ecology |
| BIOL 415 | Ecological Parasitology (* Biol 315 is a pre-req) |
| GEOL 301  | Cave & Karst Landscapes and Systems |
| GEOL 412 | Climate Change: Past, Present, and Future |
| GEOG 350 | Natural Resource Management |
| CHEM 301 | Aqueous Environmental Chemistry |
| CHEM 302 | Atmospheric Environmental Chemistry |
| CHEM 312 | Principles of Instrumental Analysis (*Chem 311 is a pre-req) |
| FRST 351 | Forest Pathology |
| FRST 352 | Forest Insect Pest Management |
| INTD 494 | Integrated Seminar in Natural and Cultural Resource Management |
| MATH 346 | Mathematical Biology |
| RMOT 423 | Fisheries Management (different topics covered than in FISH 423) |
| RMOT 306 | Environmental Monitoring |
| RMOT 357 | Research Methods in Natural Resource Management |
| RMOT 401 | Wildlife Management |