Student Awards Ceremony: Monday, November 17th, 2008 from 5:00 - 7:00 in Building 255 Room 170. This year $14,250 dollars will be given to 13 deserving Fisheries and Aquaculture diploma and degree students. Please join us in recognizing the generous support of our financial donors and the outstanding achievements of your fellow students. Also, we will BBQ more delicious marinated farmed salmon from Marine Harvest Canada. An email invitation was sent to all of you so please remember to RSVP to Anne by this Friday, November 14th @ noon.

*LAKE SURVEY COURSE UPDATE: Mandatory - all students enrolled in FISH 281 must meet at building 380 (Nanaimo campus) at 8:30 a.m. on Monday, September 1st to pack equipment into the vans. Directions to the survey site will be handed out after the packing is completed. For the survey, please bring appropriate clothing, camping gear, rain gear, gumboots, field notebook and enough food & water to last until Saturday, Sept 6th. Note: There is a trip into town (Woss) to replenish drinking water and ice. Depending on the number of students we will return either Friday, Sept 5th or Saturday, Sept 6th. Contact Anne McCarthy if you have questions.
Students enrolled in AQUA 100T, please meet at building 380 Room 103 (Nanaimo campus) at 9:00 on Tuesday, September 2.
Attn all second year diploma students and returning B.Sc. Fish/Aqua students: If you are interested in part time work throughout the school year - there are 3 Work-op positions available through the Centre for Shellfish Research (contact Dr. Helen Gurney-Smith), and 1 available with the Natural Resource Extension Program (contact Darren Hebert).
$1,000! Pacific Salmon Foundation Volunteer Stewardship Community Bursary Program (Applications accepted September 1st - October 31)

World Water Day: Fisheries and Aquaculture Department Open House Thursday, March 20th (9:00 - 4:30). Student volunteers needed - sign up sheet in coffee room in bld 380.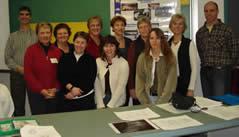 Representatives from the world renowned Fish Aging Unit of the Pacific Biological Station will be conducting their annual seminar for Fisheries and Aquaculture students on Friday, March 14, 2008 in building 380 room 103. Please note: all other first year classes are cancelled this day.
Electrofishing Course: Huge Student Discount!
Don't miss out on this course especially if you want to do fisheries field work. Join the Natural Resource Extension Program for Electrofishing: Theory, Safety and Application Saturday, March 08, 2008 - Sunday, March 09, 2008 from 9:00am-5:00pm in Building 380 Room 201 at Vancouver Island University. Cost for Fish/Aqua students $100.00 (normally $400.00!). Contact 250-740-6377 for registration information. Do NOT register online please.
Online student survey is now available!
As part of our regular procedures for ensuring program quality at Vancouver Island University, we are conducting a review of the Fisheries and Aquaculture programs. Feedback from current and former students is a key component of this process. By taking about 30 minutes to fill out the survey, you will be helping us assess and make improvements to the program. Invitations to participate were emailed to all Fish/Aqua alumni on February 29, 2008. Survey closes March 17, 2008.
Working for Marine Harvest Canada:
Ian Roberts (Communications Manager), Suzi Dyson (Human Resources Advisor) and Fish/Aqua diploma graduates / Marine Harvest employees Brian Leaky & Bob Cearns will be here to speak about employment opportunities with Marine Harvest Canada. (Wed) March 5, bld 380 room 202 at 11:30 am.
Seminar on International Sturgeon Conservation:
Dr. Harald Rosenthal, president of the World Sturgeon Conservation Society and supporter of the International Centre for Sturgeon Studies (ICSS) will give a short (30 min) seminar on the recently approved action plan for the endangered Acipenser sturio (common sturgeon) in Europe. Interested faculty, staff and students are welcome to attend this informal presentation on (Wed) March 5, bld 380 room 202 at 1:30 pm
VIU Fish Culturist (2) Job Postings now available:
Interested in working here at the Fisheries and Aquaculture Department hatchery this summer? All fish/aqua students are eligible to apply. The job selection process consists of 2 portions: a written portion (testing knowledge obtained in AQUA 121/122 and regarding the hatchery here) and a formal interview with Frank, Gord and Anne. Closing date: 4:00 pm on March 3.
The Fisheries and Aquaculture Awareness Committee (FAAC)
Students enrolled in the second year of the fish/aqua diploma program will be giving a presentation on February 20, 2008 in bld 380 room 201 at 11:30. Bring your lunch and come listen to your fellow students talk about sustainable fisheries and aquaculture!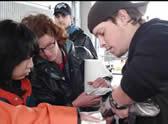 We will be live spawning our rainbow trout on Tuesday, January 8 starting at 9:00 am. Trout project students are required to attend. Please bring rain gear and warm clothing.